. . .
PRAISE GOD
Hello! Welcome to CROW's abode. This is where I live !
I hope you find what you seek in mine house . .
If you are mine friend, don't be surprised if you see thine thoughts between mine lines ! !
Take it as flattery ! ! I look up to you always. Mine friends are mine inspiration ! I love them so !
You will find things in a lot of languages in mine house . . some lost to Time . .
But fret not ! If it is meant for you, you will understand it.
Enjoy your stay !
Not meant for mobile. Watch your step !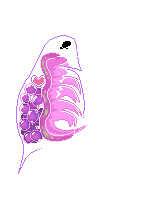 PROPHECY THIS!
Equals at the slaughterhouse,
Two daphnia in a test tube
Rowing the boat on the Acheron
Eternally bound to the carousel.
FZZZ CIRCA 2010 BABY ! ! !
Pet's name:
Emilia
Play Chicken Smoothie with me? ;w;

NASA PIC OF THE DAY